Sooooo like a lot of people I know, I too have been sucked into the black hole of Animal Crossing. I've always loved spooky things so I immediately got the idea to make a house based on the fatal frame games. So far I only have plans to do a memorable room from each game (or try to)
Well here's what I have so far:
This room is actually pretty complete, and anybody who has played Fatal Frame 2 should recognize it immediately. Though the hibachi in the top left probably isn't staying there. This is the first room of the house and will connect to the foyer/Entrance of Himuro Mansion.
Here is the Foyer of Himuro mansion so far. It's pretty incomplete. The floor will most likely be replaced and used for whatever I come up with for Fatal Frame 3. The Tea Tansu will also be moved. I have all the pieces for it except a Camera for the save point in the top left. I can't add anymore doors but I have a mask to put on the right wall when I make it bigger.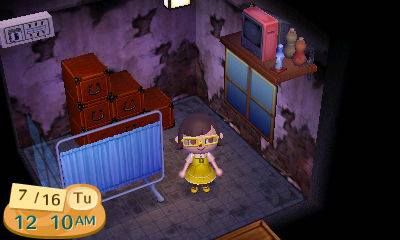 Lastly here is the room for Fatal Frame 4 located upstairs, featuring Haibara Hospital. For now all I know is I need more hospital screens and I need to get a hold of some hospital beds. The stair dresser will probably be moved also. I thought the breaker was pretty fitting because of the puzzles.
I'm not sure what to do for Fatal Frame 3, I want to do an important/memorable room and not just a cheap closet. Maybe hall with Tatami, seeing as how it has a cooking stove, stair dresser, and clay pots. What do you guys think? Of course if you want to see it in action and have the game, please visit and take a look!!!
My dream code is: 4900-2264-5951
also incase anybody is interested, here a QR code of the Ruka dress I made. It isn't 100% perfect but I'm pretty happy with it *_*
This isn't art anymore man,it's obsession. I'll post updates ofc when I get more things