Rezz
:

(22 September 2014 - 07:33 PM)

baby miku apparently

suprimeking
:

(22 September 2014 - 07:39 PM)

idk anymore
JJStorm
:

(22 September 2014 - 07:41 PM)

less than a week now~

Rezz
:

(22 September 2014 - 07:52 PM)

Fa-tal Frame! Fa-tal Frame!

ナガクラ
:

(22 September 2014 - 09:08 PM)

Fatal Frame: the musical

Rezz
:

(22 September 2014 - 10:12 PM)

I'd watch it, ngl

Rezz
:

(22 September 2014 - 11:53 PM)

49,663 words. 120 pages. Do I win for longest yet?

ナガクラ
:

(23 September 2014 - 01:31 AM)

I wonder if Sae will have a solo performance if they made a musical out of FF2

Rezz
:

(23 September 2014 - 01:31 AM)

They would

Rezz
:

(23 September 2014 - 01:31 AM)

The song'd be called Musical Giggles

ナガクラ
:

(23 September 2014 - 01:48 AM)

I wonder how the Crimson Butterfly ending would be in musical form

ナガクラ
:

(23 September 2014 - 01:48 AM)

Maaayuuu dont goo~ What have I done, oh what should I do *slips and falls off the stage*

Rezz
:

(23 September 2014 - 02:00 AM)

lmfao

Rezz
:

(23 September 2014 - 02:02 AM)

Sae possessing Mayu would be cool, though. You'd just have one actor walking around behind the other moving them around like a puppet

pkstarstorm1up
:

(23 September 2014 - 02:26 AM)

What's this about a baby Miku?

Rezz
:

(23 September 2014 - 02:41 AM)

I actually don't know lol

Homuranagi

:

(23 September 2014 - 02:45 AM)

young miku in ff1, i assume from the live LP during the stream this morning

ナガクラ
:

(23 September 2014 - 03:05 AM)

I missed the stream
Rezz
:

(23 September 2014 - 03:48 AM)

oh, baby Miku at 17? lol

Homuranagi

:

(23 September 2014 - 04:06 AM)

https://www.youtube....h?v=LbXQuetRtpU
News
17 September
Another
Famitsu article
has been released, containing more info about characters, settings and gameplay, along with a minor note about a certain returning character some of you might remember...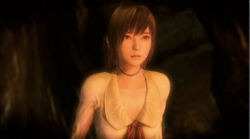 That's right, everyone. Miku's back.
And if that weren't enough, we have a third trailer!
Come and discuss it
here
.
For all the latest news, see
this thread
.
Recent Status Updates
So my macbook finally decided to full on die. Not going to be able to Skype for a while. Also continuing reading the novel tomorrow.
Re-organizing my pictures and several college files, especially cosplay photos and last semester files.
"I don't really like scary things very much," says Sae, while talking to Reika.

Show comments (4)
I ate a lot of candies and now I feel both sad and happy. (':
how weird is it that one of the first things we saw of this game was miku all along

Show comments (1)
10,780

Total Posts

575

Total Members

InsaneChronos

Newest Member

207

Most Online
32 users are online (in the past 60 minutes)
7 members, 22 guests, 3 anonymous users (See full list)
Bing, Asou Misaki, Google Mobile, Yahoo, ナガクラ, Google, Kenshin 4, CakeCorpse, Rezz, Jenny, AmethystRain
Board Life Status
Board startup date: Jan 13 2013 06:26 PM